(dee-toe) – rhymes with "Cheetoh"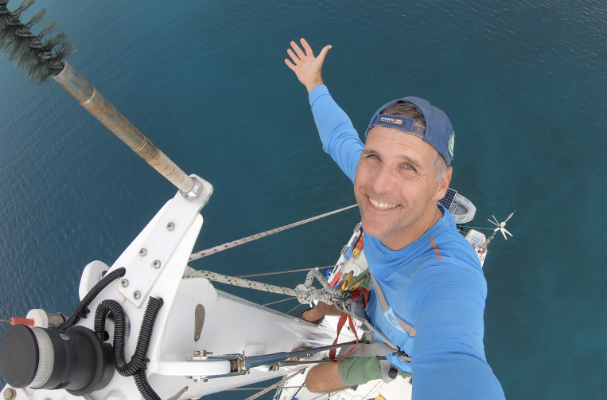 Dito was born in Puerto Rico, raised in Saudi Arabia, and lived on a sailboat for the better part of a decade. He wrote his first novel, Debunked, over three years while sailing from Florida to Mexico with his family. Now he lives in the Arizona desert, where he likes to bullseye womp rats in his T-16 in his free time.
Learn more about his travels at: www.maxingout.com
Contact: ditoabbott@gmail.com
NAME


Q: Is your name really "Dito"?




A: I was born in Puerto Rico. The ladies at daycare called me "gordito" because I was a chunky little hombre. Family and friends have called me Dito my whole life.
The government calls me David. College friends call me Dave. My sensei calls me El Tornado. A bearded fellow who forgot my name points and nods every time we run into each other at a comic-con.
I use Dito to invite readers into my family. But I also answer to El Tornado.
Q: How do you pronounce "Dito"?




A: Dee-toe. Rhymes with "Chee-toh".
WRITING
Q: Where do you get your writing ideas?
A: Adventure, in all its forms. I've read a lot of articles about "finding underserved niches", then "writing to market", but I just try to write stories that would have blown my mind when I was twelve (hence the airships).
Q:Who are your favorite authors?
A: Sir Terry Pratchett will always have my heart. Neil Gaiman. Douglas Adams. Enid Blyton. I'm not sure why I gravitate to British authors, but it makes my spellchecker angry every time I type "endeavour".
Q: Is it true you wrote Debunked while at sea?
A: It took me two and a half years, the majority of which was spent sailing from Florida to Mexico, with stops in Panama and the Galapagos. The original plan was to head across the Pacific Ocean, but Covid-19 shut the world down just as we were preparing to leave the Galapagos for the Marquesas islands. After 40 days of quarantine (I was the only person who got off the boat, for groceries), we headed north for the Sea of Cortez.
BACKGROUND


Q: Did you really live in Saudi Arabia?




A: Yes. Lived there from age 4 to 15. Amazing country, with world-class off-roading. My family did a lot of camping in the desert.
Q: What's it like to sail across an ocean?




A: As with everything on a sailboat, it depends entirely on weather. If conditions are comfortable, it's a piece of cake. If things are hairy, you will question your life decisions pretty severely. Mostly, it's an endurance contest – can you be uncomfortable long enough to win the reward of an amazing destination? Great training for life.
Q: Did you really sail around the world?
A: Yes. It took eleven years, on and off. I left the USA with my family at age 15 and got as far as Australia. Went to university in Kentucky. After graduation, sailed with my parents and wife from Oz back to the USA. Check out: https://www.maxingout.com to see our adventures.
GENERAL
Q: Are you married?
A: I have a wife and two daughters. They rule all the land with mighty Fists of Righteousness.
Q: What was that thing in the bio about womp rats and a T-16?
A: I bullsye them when I run down to Tosche station to pick up power converters.